ATLANTA - For a quarter-century a giant peach has signaled a new year in downtown Atlanta and 2015 won't be much different.
Peachdrop organizers say the largest New Year's Eve event in the Southeast will feature Ludacris and Sugar Ray.
It's probably the biggest name at the Peach Drop since Tito Jackson.
You can watch the Peach Drop live at Underground Atlanta on Wednesday night. If you are staying home watch it on Channel 2, on wsbtv.com or any of our apps.
Meanwhile we found some other items that may be cooler than a peach that will be dropped or hoisted across America on New Year's Eve.
The Possum Drop - Tallapoosa, Georgia
Stuffed by a local taxidermist, Spencer the Possum, drops on New Year's Eve. The town was originally named Possum Snout. A city in North Carolina canceled their live possum drop after an argument with PETA.

To-Go Cup - Savannah, Georgia
This is the second year a to-go cup will be raised in Savannah. Once the six foot cup is high above River Street there'll be fireworks.

Watermelon Ball - Vincennes, Indiana
An 18-foot, 500 pound watermelon drops on New Year's Eve then releases real locally-grown watermelons.
Sardine - Eastport, Maine
A sardine crafted by a local sculptor drops on New Year's Eve signifying the area's fishing industry.
Wooden Flea - Eastover, North Carolina
This giant wooden flea signifies the community's original name - Flea Hill.
Acorn - Raleigh, North Carolina
Nicknamed "The City of Oaks", Raleigh will drop this 900-pound copper acorn.
Sausage - Elmore, Ohio
Billed as "The wurst event of the year," the sausage drop is celebrated only once every five years. See this tube of stuffed meat again when we ring in 2015.

Walleye - Port Clinton, Ohio
It's the 17th year a walleye has dropped on the Lake Erie shore. The walleye capital of the world has a celebration that includes walleye chowder, sandwiches and of course walleye popcorn.
Hershey Kiss - Hershey, Pennsylvania
What else would they drop in Hershey?
Pickle - Mount Olive, North Carolina
The Mt. Olive Pickle Company drops this celebratory cucumber down a 45-foot flagpole.
Music Note - Nashville, Tennessee
The Music City has a huge bash on Broadway culminating with the drop of a music note.
Deuce of Clubs - Show Low, Arizona
This playing card is also the name of the main street through town in Show Low.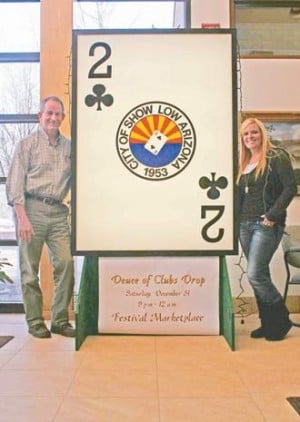 Grapes - Temecula, California
Celebrate New Year's Eve in wine country with a giant light up bunch of grapes.
Bologna Drop - Lebanon, Pennsylvania

This New Year's Eve has a first name and its B-o-l-o-g-n-a. Nothing can ring in a new year like a giant hunk of Bologna lowered from a crane.