GWINNETT COUNTY, Ga. — Complaints from across the country are piling up about a clothing website based in China with a Gwinnett County connection.
LinkShe.com primarily sells bathing suits. But when or even if those suits get delivered is another story.
Channel 2 consumer Iivestigator Jim Strickland found the watchdog site "Rip Off Report" has dozens of complaints against the site. The Better Business Bureau gives the company an F rating.
Ronit Lemke is one of many customers who said they ordered a suit from the online boutique because of the cheap prices – in her case, $20 cheaper than any other site she found.
We compared the suits at Linkshe.com with other sites. In many of the cases, we found identical pictures, but on Linkshe.com, the model's heads were cropped from the picture.
[PHOTOS: Model pictures from other websites appear on Chinese clothing website LinkShe.com]
Macys.com advertises a Reebok suit for $98, with a July sale price of $48.99. The ad on Linkshe.com used the same picture without showing the model's face. It also did not give a brand name for the design. The LinkShe version sells for $28.84.
When the suit Lemke ordered didn't show up in time for her vacation, she did some digging.
She couldn't find a phone number to call anyone at the website.
But she did find other people who complained about LinkShe.com.
"All I found was complaints and ... I probably spent two hours just going through complaints, just reading and reading and reading the exact same thing," Lemke said.
>>Have a tip you want 2 Investigates to look into? Submit it here.
Lemke says the suit finally arrived about a month after she ordered it. There was a reason it took so long to get to Gwinnett County. She got a call from home.
"Hey, guess what? Your bathing suit is here and it's from China," Lemke recalls.
Lemke says the suit was unacceptable.
"It's not the right style, it's about twice my size," Lemke said. "There's no manufacturer, there's no name of a designer, there's no instruction on how to wash. Nothing."
RECENT INVESTIGATIONS:
Yamuna Kutty from Canada also complained to the BBB after ordering from the site. When her suits arrived, one was the wrong size. She's had no luck exchanging it.
"I'm not asking them to give me something free; I paid for it," Kutty said.
Both women say they had trouble contacting the company.
The website lists a Chinese headquarters. But it says that's not the address to send returns.
The BBB lists that address in Lawrenceville. It's a home on a quiet street.
Strickland went there looking for someone connected to LinkShe.com.
A woman named Dina Zhu told Strickland a friend at LinkShe.com in China asked to use Zhu's Gwinnett address as a receiving point for returned merchandise in the United States.
She said it's been a burden.
"Too many packages every day," Zhu told Strickland. "There are too many in my garage."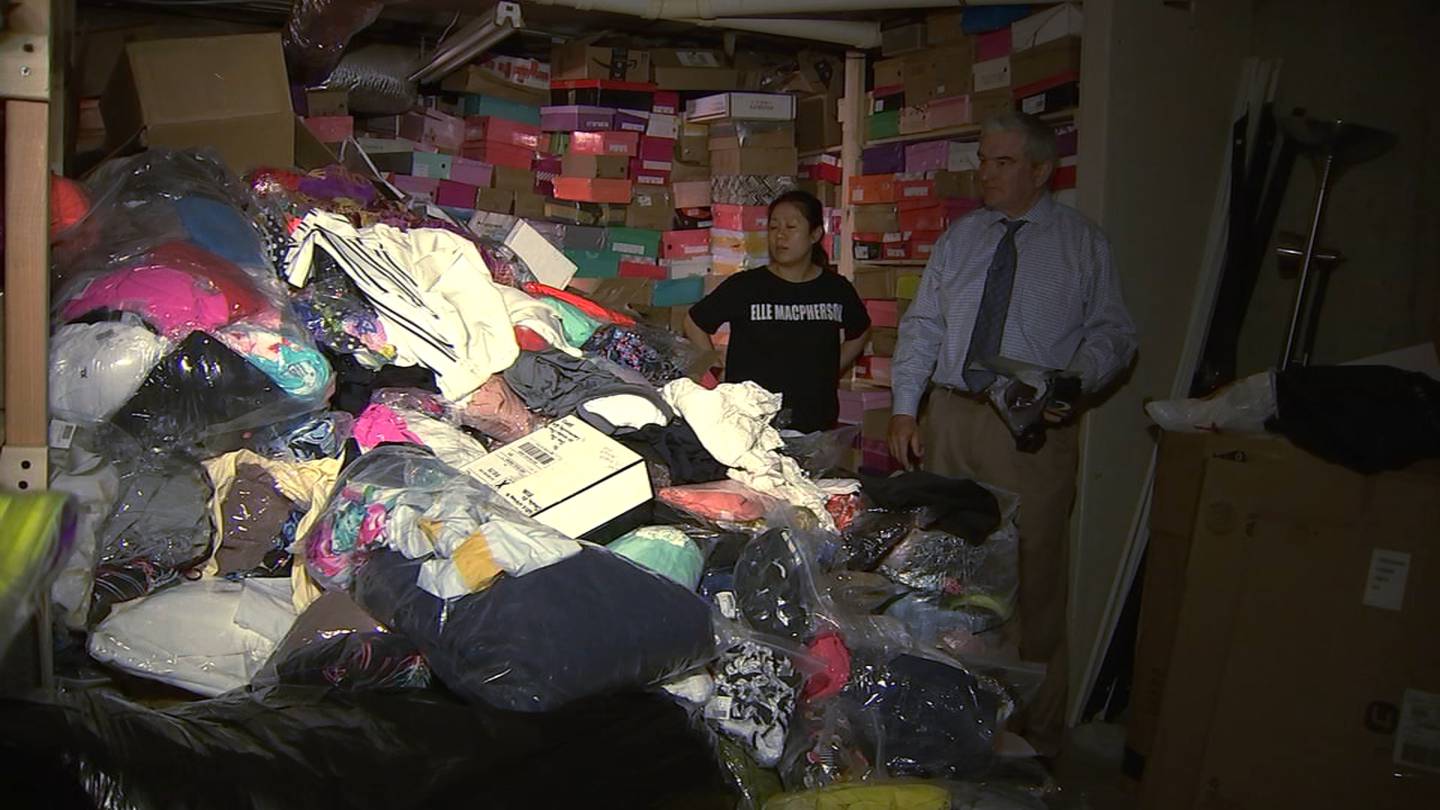 Zhu showed Strickland her garage full of piles of swimsuits. She says she got Linkshe to stop using her address, but can't find anyone to tell her what to do with the swimsuits in her garage.
Linkshe.com responded to Strickland's request for comment, saying "Customers are always our top priority."
The e-mail to Strickland said the website doesn't accept e-mails, but that option will be available soon. In the meantime, "Our customers can contact us by live chat (during working time) or submit a ticket on our website."
Zhu says she's already taken some of the returned swimsuits to Goodwill.
And Lemke says she may do the same.
Read the full statement from LinkShe.com below:
Hi Jim,
Thanks for your great concern on Linkshe.com, I'm sorry to hear that there is unsatisfactory feedback from customers. If they are not satisfied with the items, we accept return&exchange within 30 days of receipt. Our customers can contact us by livechat (during working time ) or Submit A Ticket on our website. Our customer service will reply in 1 working day. At the moment, we don't accept e-mails since our email service system is updating, but it will be available soon.
Customers are always our top priority. We pay great attention to customer's experience and feedback, which will help us improve our service to make it better. We are trying to contact the customers who leave reviews on complaintsboard.com, and solve the troubles they may have. 
You also mentioned that you get in touch with one of our customers in Lawrenceville, GA. Could you please send her contact email to us if she needs any assistance? We greatly appreciate your help if you can bring our concern and commitment to her. Trust us we will reslove the cases as soon as possible. She can also contact us by this e-mail, or any other methods we provide, live chat or ticket on website.Our customer service will reply in 1 working day.
We greatly care about Intellectual Property Rights (IPR) of any third parties as well as those of our customers. We will respond quickly and efficiently to notices of alleged IPR infringement. You said one picture is same to Macys can you tell me which item? Tell us more information, then we will check it immediately. Our Intellectual Property department are checking all products to avoid any intellectual property issue.
We will be highly appreciated if you could send us the e-mail of the lady who intend to return, then we will get to know all details and immediately resolve the problem for her. We will also let you know the newest update after we get in touch with the customer. 
Grealy thanks again for your concern. If still any doubt, please feel free to reply.
Best Regards.
Cox Media Group