HOUSTON — THE LATEST: Some parts of Houston and just west of the city may receive a Texas record of 50 inches of rain as Tropical Storm Harvey stalls over Texas.
Severe Weather Team 2's Brian Monahan is in Texas for live reports from the storm zone. He'll have complete coverage of the storm's destructive path, on Channel 2 Action News at 6 p.m.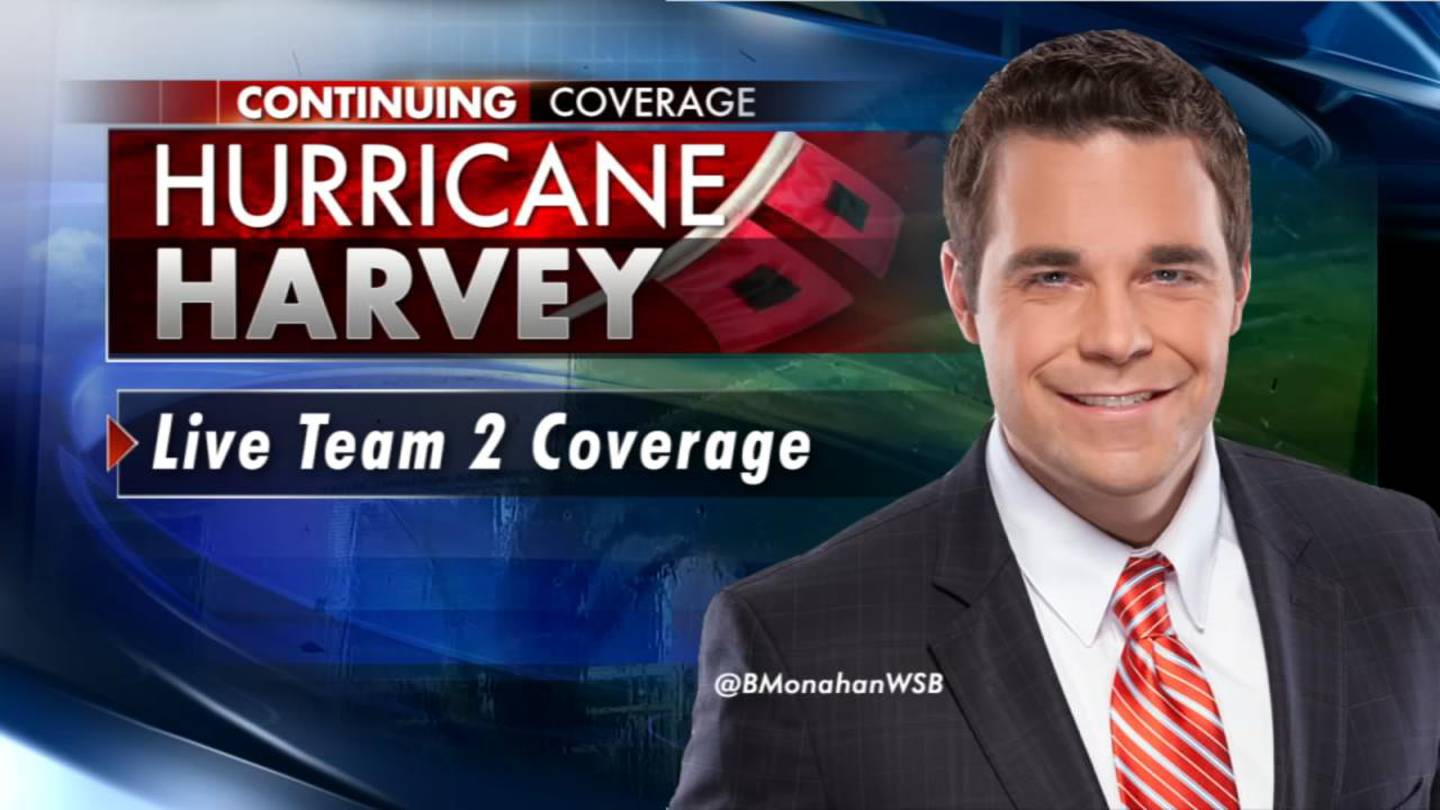 Hurricane Harvey continues to hammer the Lone Star State, although it has been downgraded to a Tropical Storm from its initial landfall status as a Category 4 storm.
Severe Weather Team 2's Katie Walls said the Harris County area around Houston was under a flash flood emergency until after 12:15 a.m. because of Harvey.
"If you have friends and loved one in the Houston area, please advise them to stay put" Walls said.
Houston's interstate highways and major streets are flooding as Tropical Storm Harvey stalls over Southeast Texas.
Many of Houston's roads had spots of flooding Saturday night that were nearly impassable. The city's transportation authority counted more than 50 high water spots just a few hours into the storm passing through the area.
National Weather Service says between up to 6 inches of rain fell within three hours. In some sections of south and southwest Harris County, where Houston is located, more than 4 inches of rain had fallen in an hour.
On Sunday, the National Weather Service tweeted that the event is "unprecedented."
"Isolated parts could see up to 40 inches of rainfall," Walls said.
Officials are urging people to stay off of the roads.
The National Weather Service has received multiple reports of water rescues in Harris County and nearby areas. The Harris County sheriff's office said on Twitter that it rescued one driver from 3 feet of rushing water.
The reason for so much rain is because Harvey is barely moving.
"It's going to sit, it's going to spin, and it's not going to be moving very far, very fast," Walls said.
Severe Weather Team 2's Brian Monahan and his photographer arrived in Texas around 8 p.m. Saturday evening.
As they were heading out of the airport Monahan ran into a gentleman who works for FEMA.
The FEMA employee told Monahan he was renting a car for the next 2-3 months because that's how long they anticipate they will be needed to assess the damage from Harvey.
The storm is the strongest to hit the state in decades.
Five people have died due to the storms.
[DOWNLOAD: WSB-TV's Weather App for alerts]
Throughout the region between Corpus Christi and Houston, many people feared that toll was only the beginning. Authorities did not know the full scope of damage because weather conditions prevented emergency crews from getting into the hardest-hit places. And they dreaded the destruction that was yet to come from a storm that could linger for days and unload more than 40 inches of rain on cities, including dangerously flood-prone Houston, the nation's fourth-largest.
In the island community of Port Aransas, population 3,800, officials were unable to fully survey the town because of "massive" damage. Police and heavy equipment had only made it into the northernmost street.
"I can tell you I have a very bad feeling and that's about it," said Mayor Charles Bujan, who had called for a mandatory evacuation but did not know how many heeded the order.
[INTERACTIVE WEATHER: Zoom into your neighborhood]
Some of the worst damage appeared to be in Rockport, a coastal city of about 10,000 that was directly in the storm's path. The mayor said his community took a blow "right on the nose" that left "widespread devastation," including homes, businesses and schools that were heavily damaged. Some structures were destroyed.
Rockport's roads were a mess of toppled power poles. A trailer blocked much of one major intersection. Wood framing from ripped-apart houses was strewn along Route 35 on the town's southern end.
"It rocked and rolled sweetie and it scared me within an inch of my life I can guarantee you that and I've never seen such devastation all over this town in Aransas Pass in my life," Deborah Carter told ABC News. "I was very scared that I would die like that and I didn't want to die that way. If I'm going to go, at least let me go another way and not like that you know. If I'm going to go let me go some other kind of way and not in a hurricane."
Harvey's relentless wind tore the metal sides off the high school gym and twisted the steel door frame of its auditorium.
"We're still in the very infancy stage of getting this recovery started," said Aransas County spokesman Larry Sinclair.
What's ahead: Rain, flooding, tornadoes
What can Texans expect from this storm as it hovers over the region? Rain -- and lots of it.
"Flooding is a minor issue so far," Harris County Judge Ed Emmett, the chief administrator of the county that includes Houston, said. "Most of the watersheds are well within banks, but we're not out of this."
Francisco Sanchez, with the Harris County Emergency Management Office, said the storm would be around for a while.
"Someone is going to get those very high rainfall totals," he said. "Hopefully it's not us, but we're in that possibility area."
The highest rainfall amount that ABC News meteorologists are currently aware of is 10.54 inches in Aransas, Texas.
A flash flood warning was in effect Saturday for several Texas communities, including Portland, Ingleside and Rockport, according to the National Weather Service.
Tornadoes are also a concern as there is a high risk of them in the region.
RELATED STORIES:
A tornado watch was issued Saturday in the early morning hours for parts of Texas and Louisiana.
The warning was expanded inland and extended through much of Saturday, according to Monahan.
ABC News affiliate KTRK reported that a possible tornado was spotted in Texas' Fort Bend County.
Here's a projected timeline for Hurricane Harvey thus far, according to forecasts from the National Weather Service:
Sunday through Monday: Some forecast models show Harvey expanding across the Gulf Coast as it makes its way over southern Texas.
Tuesday through Wednesday: The hurricane could, according to some models, move northeast and then re-emerge briefly over the Gulf of Mexico before making a second landfall in northeastern Texas or western Louisiana.
Power outages
As of 7 a.m. local time Saturday, some 293,000 customers were without power along Texas' Gulf Coast due to Hurricane Harvey's wrath, according to the Electric Reliability Council of Texas (ERCOT), which manages the flow of electric power to 24 million Texas customers, representing 90 percent of the state's electric load.
On Friday at 10:07 p.m. local time, around the time Harvey made landfall, ERCOT said 104,000 customers were already without power.
How officials are responding
Politicians and officials have taken a proactive approach to the storm.
Texas Gov. Greg Abbott said Thursday night that he had discussed storm preparation with President Donald Trump, as well as with the heads of FEMA and the Department of Homeland Security.
On Friday, Abbott sent a letter to Trump requesting a presidential disaster declaration in anticipation of Hurricane Harvey.
"Granting this request will provide Texans the additional resources needed to protect themselves, their property and rebuild their lives if necessary after Hurricane Harvey," Abbott said in a statement.
RELATED STORIES:
The hurricane posed the first major emergency management test of President Donald Trump's administration.
Trump met with his Cabinet and other senior administration officials to discuss the federal response to the damage and flooding, the White House said Saturday in a statement.
The president held a video conference from Camp David in which he instructed departments and agencies to "stay fully engaged and positioned to support his number one priority of saving lives," the statement said.
Trump also reminded department heads that the full impact of the storm will not be apparent for days. On Twitter, he commended the head of the Federal Emergency Management Agency for his handling of the disaster.
Here's a timeline of some of the recent hurricanes to hit Texas and the damage they caused:
Hurricane Bret (Aug. 22, 1999): The Category 3 storm made landfall on a Sunday evening about 60 miles south of Corpus Christi. Luckily, the area is sparsely populated compared to Corpus Christi, and so problems were limited. Central Kenedy County received more than 15 inches of rain over two days, according to the NWS. The storm did about $88 million in damages in 2017 figures. Four Americans died in the storm.
Hurricane Claudette (July 15, 2003): While Claudette came ashore as only a Category 1 storm with maximum winds of 90 miles per hour, it did extensive damage after coming ashore at Port O'Connor, about 100 miles northeast of Corpus Christi, and moving inland across Calhoun County, according to the NWS. Two people were killed.
Hurricane Rita (Sept. 24, 2005): The last Category 3 storm to make landfall in Texas was Rita, though it did so much farther north than Harvey is expected to land. Rita, which hit just three weeks after Hurricane Katrina, made landfall right along the Texas-Louisiana border with sustained winds of 120 miles per hour. The town of Center, Texas -- near Nacogdoches -- received 10.48 inches of rain in the storm, but it moved quickly through the area, limiting rainfall accumulation. Still, 59 people from Texas were killed in the storm, according to the NWS, and a number of others died in a bus accident during evacuations.
Hurricane Ike (Sept. 13, 2008): Ike, the last hurricane to make landfall in Texas, hit near Galveston as a Category 2 storm after decimating areas of the Caribbean in the week prior with winds as high as 145 miles per hour. By the time it hit Galveston, winds were at a sustained maximum of 110 miles per hour, according to the NWS. The massive size of Ike resulted in substantial rainfall totals for the area. The highest total was 18.9 inches near Spring Creek, south of Houston, according to the NWS. Some sensors measuring storm surge actually failed due to salt water, according to a NOAA report, but the highest total was 17.5 feet in Chambers County.
Cox Media Group