GWINNETT COUNTY, Ga. — Two Gwinnett County officers have been fired and could face criminal charges after videos appeared to show them attacking a suspect.
Channel 2's Tony Thomas broke news of the second firing on Channel 2 Action News at 6 p.m. Thursday.
[ [READ: Dozens of cases involving officers in brutality case thrown out] ]
Gwinnett County Police Chief Butch Ayers told Thomas that the second officer, a sergeant, told investigators when asked why he punched a suspect, "It's different out on the streets."
Now, both former officers could face criminal charges after two cellphone videos captured the alleged attacks.
One alleged kick and punch may have ended the respective careers of Officer Robert McDonald and 19-year veteran Sgt. Michael Bongiavonni, who have been accused in the case.
I'm literally sick about it," Ayers told Thomas Thursday evening.
The duo faces potential criminal charges after the traffic stop of Demetrius Hollins, 21.
Thomas saw Hollins leaving the Gwinnett County Jail Thursday with a bloodied face.
"All I can say is I wish this never happened," Hollins told Thomas.
Bongiavonni said he pulled Hollins over on Sugarloaf Parkway Wednesday for traffic violations, but said Hollins resisted arrest.
"I ordered Hollins out of the car. He refused, grabbed his phone and literally started to scream, 'Help me,' in the phone," Bongiavonni wrote in a report.
Commanders said Bongiavonni never reported he punched Hollins, but turned in McDonald for kicking the suspect in the head.
Bongiavonni did admit he stunned Hollins with a Taser, authorities said.
Bongiavonni's alleged punch was captured on video by a woman that Thomas spoke with by phone Thursday night.
"Did you see the driver do anything before the officer punched him?" Thomas asked the witness.
"The driver exited the car with his hands up, and the officer clocked him real good," she said.
Another video, which went viral, appeared to show Officer McDonald run up to Hollins and kick him in the face.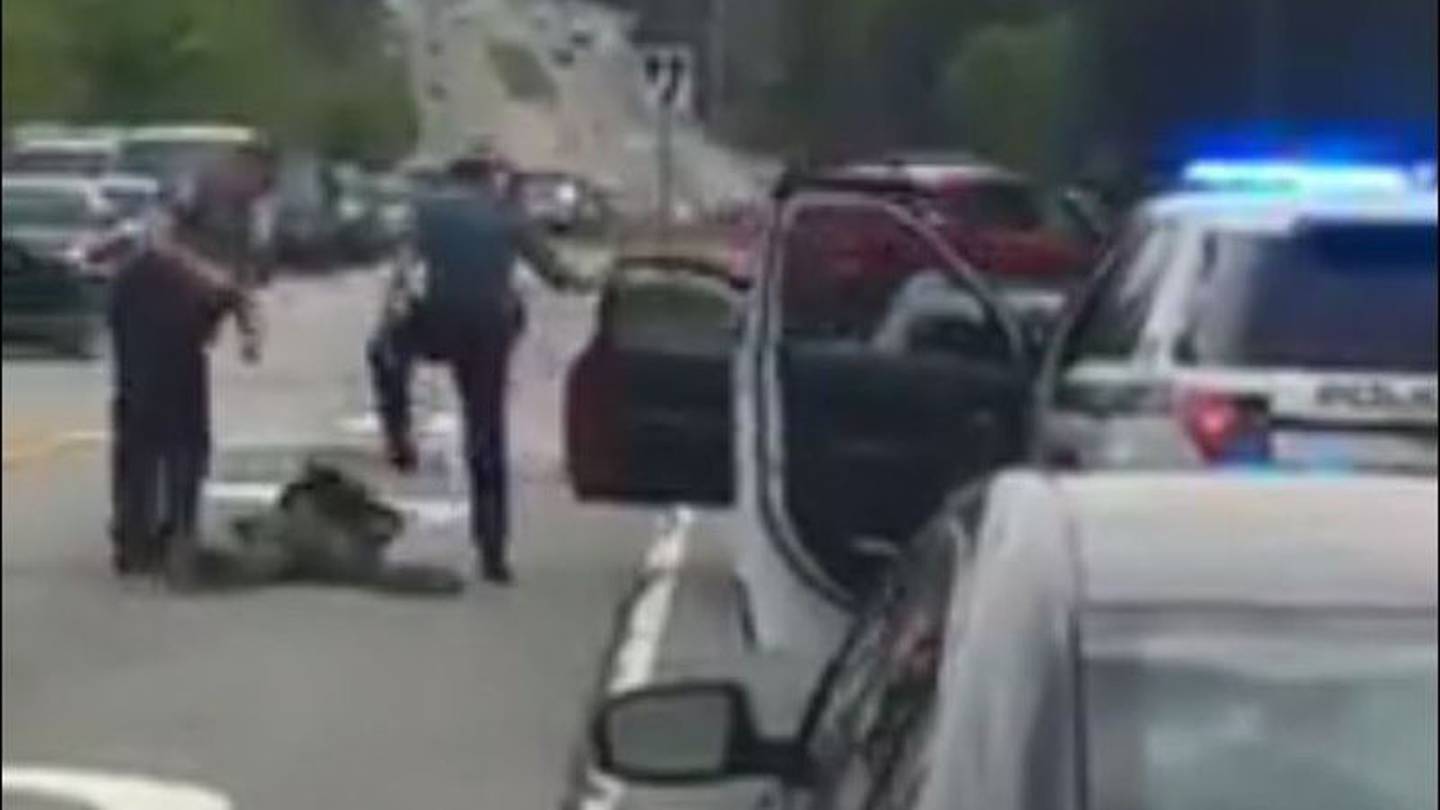 "The suspect was screaming, he was screaming, 'Ahh, ahh,'" Jones said.
Gwinnett's police chief said he's at a loss for words.
"We acknowledge that the actions of the former officers will have long-lasting effects on our community," Ayers said.
Records show Bongiavonni pulled the same driver over last year. There was a struggle, and officers allegedly found a gun under Hollins's seat in that incident.
What role that stop may have played in the latest incident is unknown.
"I was mad, I was upset and it felt like I had been gut-punched," Ayers said.
Ayers said commanders were investigating the use of force before the videotape surfaced. He said there's no excuse for what happened, but believes the officer got "tunnel vision."
"This officer and his actions do not represent the men and women of this police department," Ayers said.
TRENDING STORIES:
Cox Media Group