ATLANTA — Federal prosecutors sought records related to the city of Atlanta's top purchasing officer Adam Smith, including the contents of his city-issued computer and phone, in a subpoena dated four days before Smith was fired and the FBI seized items from his City Hall office.
The federal subpoena, obtained by The Atlanta Journal-Constitution and Channel 2 Action News, showed prosecutors sought emails, ethics disclosures and other records tied to Smith since Jan. 1, 2014. On Tuesday, the FBI entered Smith's office and the city announced it had fired Smith, who served as the city's chief procurement officer since 2003.
A computer and phone were reportedly seized on Tuesday.
Mayor Kasim Reed's office has refused to say why Smith was fired and who terminated the 14-year department head, whose career with the city has spanned two administrations.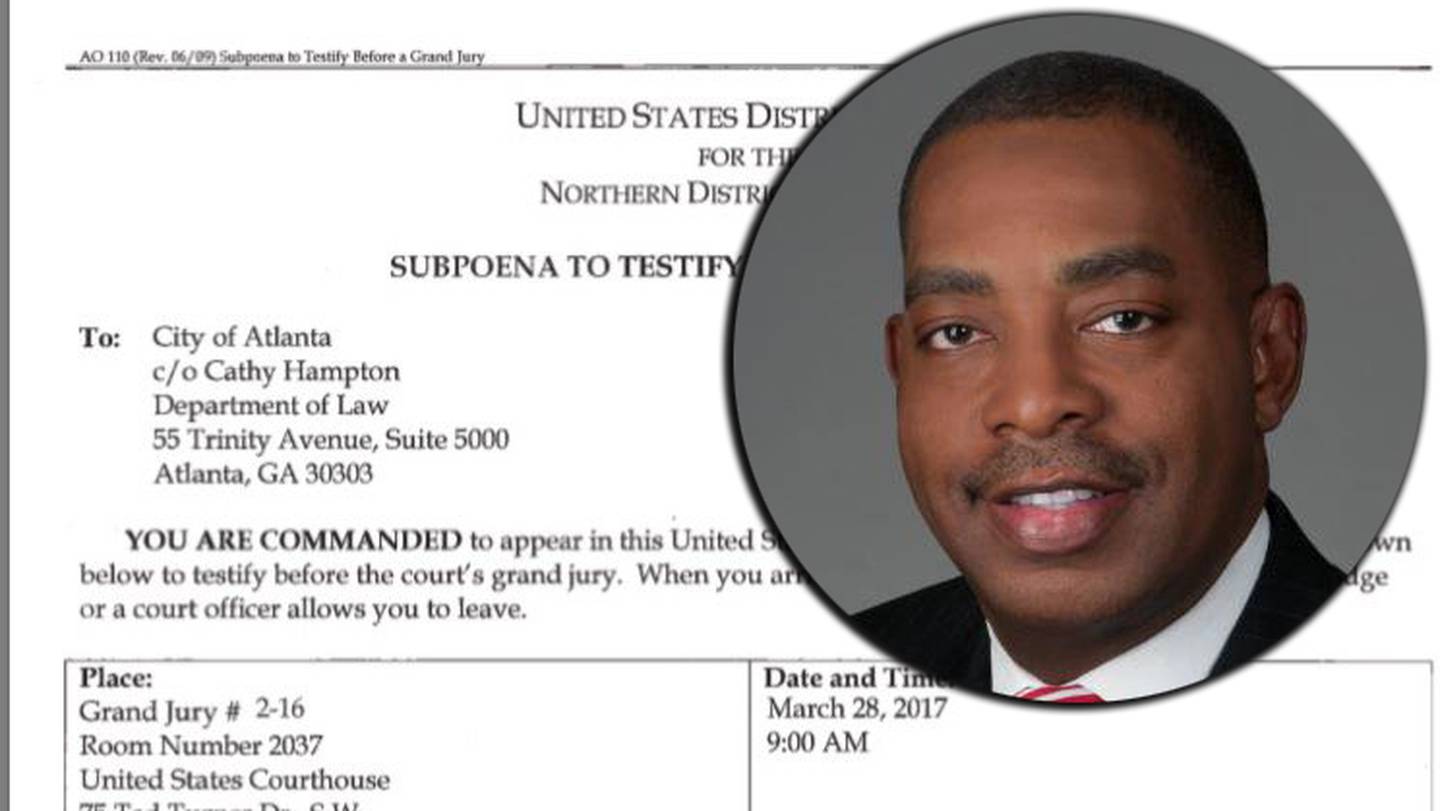 The subpoena was dated Feb. 17. It was directed to the attention of City Attorney Cathy Hampton and references a federal grand jury hearing that is scheduled to be held March 28 at the federal courthouse in downtown Atlanta.
Smith has not been publicly linked to the cash-for-contracts scandal that has gripped City Hall, and he has not returned messages or a note left at his southwest Atlanta home.
Tuesday's action by federal agents is the first known search of a city of Atlanta office in connection with the federal probe of City Hall. The city previously complied with subpoenas seeking contracts from the procurement office, along with other records involving a pair of construction contractors who have since pleaded guilty in connection with the investigation and a former city employee who has not been implicated.
So far, two Atlanta area contractors — Elvin "E.R." Mitchell Jr. and Charles P. Richards Jr. — have pleaded guilty to paying bribes to an unnamed person under the belief the money would flow to one or more Atlanta officials with influence over city contracts.
The U.S. Attorney's Office has said the two contractors bought millions of dollars worth of city business as part of the scheme from 2010 to 2015, and they have agreed to testify in exchange for leniency.
Federal investigators have asked for information about a former city employee, the Rev. Mitzi Bickers, who played a key get-out-the-vote role that helped Kasim Reed win the mayor's office in a 2009 run-off election over councilwoman Mary Norwood. Bickers worked as Reed's director of human relations from 2010 to 2013.
RELATED STORIES:
Reed said Feb. 9 he had not been made aware of the targets within city government, and said he did not know if federal investigators had interviewed Smith. It is unclear if Smith has been questioned by federal agents.
But the mayor said the city would deal with the situation and "root those individuals out" who committed wrongdoing, and "move them out of our organization and learn from these lessons."
Cox Media Group