ATLANTA — The official "American Idol" is back, and will be coming to you in 2018 only on Channel 2!
"Idol's" official bus tour hosted auditions in Atlanta on Tuesday. They began at 9 a.m. at Piedmont Park's Oak Hill, where thousands gathered throughout the day.
Channel 2's Liz Artz was there as gates opened at 6 a.m., and registration started at 7 a.m.
Atlanta's 'American Idol' auditions!

🎤🎸 Calling all singers! Large crowds are gathering right now at Piedmont Park for Atlanta's American Idol auditions! Live coverage on Channel 2 Action News at Noon. STORY: http://2wsb.tv/2vZrtHA

Posted by WSB-TV on Tuesday, August 22, 2017
Denisha Loggins, 18, told Artz this is what she was born to do.
"I'm here to try out for 'American Idol,'" Loggins said. "I feel like I just got it, I got the look."
She lined up outside Piedmont Park Tuesday morning for the Atlanta auditions.
She was one of the first in line, arriving around midnight and says she's had an opportunity to feel out her competition.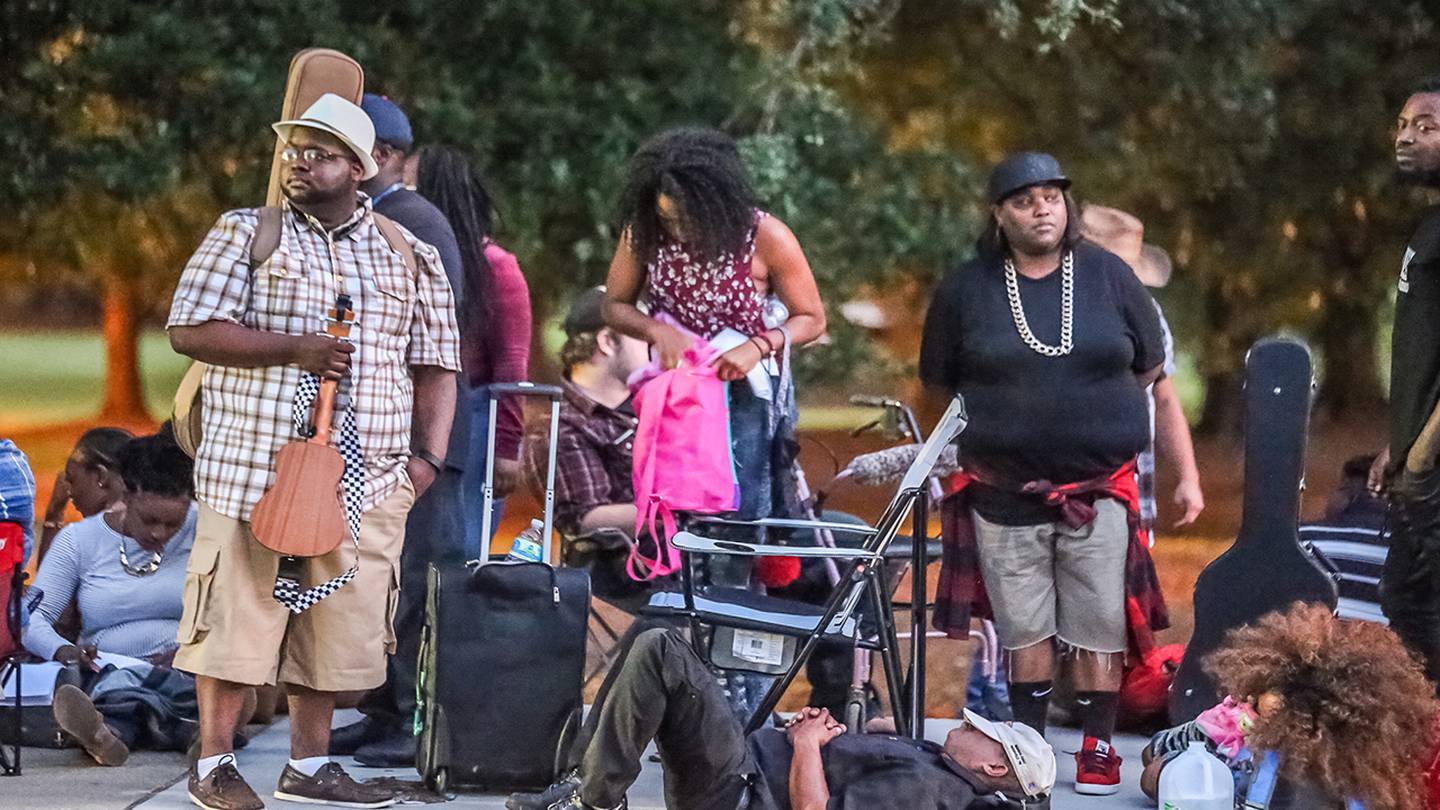 "They're wonderful, they're wonderful tough competition," Loggins said.
Nia Carter, 15, arrived just after midnight, expecting the crowd to be larger.
"We were expecting the lines to already be all the way down the road," Carter said.
She said she too has dreamed of the opportunity since she was 5 years old.
"Ever since I was, like, 5, I've been singing with keyboards," Carter said. "I played guitar for a couple of months."
Artz told Channel 2 Action News that it was an emotional day for some.
Sharnae LaLand told Artz that she had her heart set on at least making it through the first round of "American Idol" tryouts, but she was one of hundreds rejected at Piedmont Park.
RELATED STORIES:
Channel 2's Tyisha Fernandes was also live at the park where "American Idol" judges told her the next winner could come from Atlanta, adding there's a lot of talent here.
For many of the young singers that auditioned Tuesday, it's the first time they are old enough to participate.
"Idol" judge Melissa Elfar told Fernandes, "We've heard some great voices so far along this tour, but Atlanta really brought it. The energy has been incredible... This is the first step in the process, and just them making it though, they're one step closer to becoming the next American Idol."
Contestant Annie Lester said she auditioned in Atlanta before, but says this time she's a better singer.
"I actually auditioned in 2012, didn't make it past the first round, but coming back this year, hopefully I'll make it through this round," Lester told Fernandes. Lester's dad stood with her, bearing the brutal heat, but said the chance of his daughter getting on the show, now that the ABC Network has picked it up, was worth it.
"I'm glad they brought "American Idol" back and I think it's a good thing for all the young people," said Victor Lester.
More than 1,000 people were expected to audition Tuesday during a nine-hour time period and several golden tickets were handed out when it was all said and done. So we'll see some Atlanta folks on the show.
Producers asked WSB-TV not to spoil the big reveal so you'll have to watch the show when it debuts later this year.
Check audition dates for cities outside Georgia below.
American Idol open auditions will be held in the following cities:
August 22: Atlanta, GA
August 23: Provo, UT
August 25: Charleston, SC
August 26: Denver, CO
August 27: Asheville, NC
August 29: Omaha, Nebraska
August 30: Louisville, KY
September 1: Tulsa, OK
September 3: Pittsburgh, PA
September 4: Shreveport, LA
September 5: Annapolis, MD
September 7: The Shoals, AL
September 8: Boston, MA
September 11: Chicago, IL
September 14: New Orleans, LA
(Locations and dates subject to change.)
Cox Media Group