DALLAS — There remained few answers, but much speculation, Monday morning following the weekend killing of Joshua Xavier Brown, a key witness in the murder trial of former Dallas police Officer Amber Guyger.
Brown, 28, was gunned down Friday night outside the Atera Apartments, about 5 miles from the South Side Flats, where he and 26-year-old Botham Jean lived Sept. 6, 2018, when Guyger, an off-duty officer still in uniform, killed Jean after she said she mistakenly went into his apartment instead of her own.
Guyger, 31, who testified she thought Jean was an intruder, was convicted of murder last week and sentenced to 10 years in prison.
>> Related story: Jury sentences former Dallas police officer Amber Guyger to 10 years in prison
Brown's killing is the latest development in a sensational case that garnered national attention. Activists saw Jean's killing as another in a long line of deaths of unarmed black men at the hands of white police officers.
Lee Merritt, a civil rights attorney representing Jean's family, said Saturday that Brown's killing "underscores the reality of the black experience in America."
"A former athlete turned entrepreneur, Brown lived in constant fear that he could be the next victim of gun violence, either state-sanctioned or otherwise," Merritt said.
A visibly shaken Brown testified just 10 days before his death about the night Jean died. The Dallas Morning News reported that the timing of Brown's slaying has raised questions about whether his death is connected to his testimony in Guyger's trial.
Many people on social media speculated that one or more Dallas police officers may have killed Brown as retribution for his testimony.
The NAACP Legal Defense Fund issued a statement demanding an investigation into the homicide -- independent of the Dallas Police Department.
"The murder of Botham Jean has raised troubling concerns from the beginning of the investigation, and now, the deeply alarming and highly suspicious murder of Joshua Brown increases the urgency of an immediate, independent investigation of every aspect of these two tragic killings," the organization's statement read.
Dallas Mayor Eric Johnson urged people to remain calm Sunday in a statement on Twitter.
"I trust the Dallas Police Department will conduct a thorough investigation into the death of Joshua Brown," Johnson tweeted. "Until we know more about this incident, I encourage everyone to refrain from speculation.
"If you have information about this case, please share it with our police investigators so they can ensure that justice is done. Dallas will never be a city that tolerates acts of violence such as this."
Johnson shared a link to North Texas Crime Stoppers, through which tipsters can share information online. Anyone with information can also call 1-877-373-TIPS (8477).
Social activist Shaun King, who described Brown's slaying as an execution, tweeted that Bill Perkins, an author and public speaker, is offering a $100,000 reward for information leading to the arrest of the person or people who killed Brown.
"Every murder is sad," Perkins wrote on his own Twitter account. "The particulars around this specific set of circumstances make it important that everyone learn why this happened irrespective of the outcome.
"Either way, a killer needs to be caught and I wish in every case these resources could be brought to bear for justice."
Dallas police Chief U. Renee Hall said Sunday that investigators had not yet determined a motive or developed any suspects in Brown's killing.
"We are committed to solving this case and will work diligently to apprehend the individuals responsible for Brown's death," Hall said.
According to police, officers responded around 10:37 p.m. Friday to the Atera Apartments, located on Cedar Springs Road. They were flagged down by several witnesses, who pointed them to where Brown lay dying of multiple gunshot wounds to the lower torso. He was taken to Parkland Hospital, where he died.
Witnesses reported seeing a silver, four-door sedan speeding out of the parking lot immediately after the shooting, authorities said.
>> Related story: Botham Jean neighbor, key witness at Amber Guyger trial, fatally shot outside apartment
Word almost immediately emerged that Brown had been shot through the mouth -- which some speculated on social media was symbolic payback for his testimony.
Merritt was one of the people who stated Brown was shot in the mouth.
"Joshua Brown was shot in his mouth and chest," Merritt tweeted Saturday. "He was exiting his car at his (apartment) when he was ambushed and shot at close range.
"His mother asked my office to help find out who murdered her son. She suspects foul play. He had no known enemies. He worked for a living. We need answers."
Merritt later tweeted that there was uncertainty as to where on his body Brown was shot.
Actor and self-described "king of the internet" George Takei also tweeted that Brown had been shot in the mouth, saying "speaking the truth to power is a heroic thing. Just ask Joshua Brown."
"The truth can be life or death," Takei wrote.
Dallas County Judge Clay Jenkins, who heads the county commission, went on Twitter Sunday to dispel those rumors.
"Mr. Brown was not shot in the mouth or head, but was shot more than one time," Jenkins tweeted Sunday.
Brown, wearing shorts and a "Dragon Ball Z" T-shirt, testified Sept. 24 about what he saw and heard the night Jean died.
According to video of the trial, which was streamed live by Court TV and other media outlets, Brown testified that he met Jean for the first time earlier on the day of Jean's death when a representative of the complex's leasing office knocked on both men's doors.
Brown testified that the representative claimed there had been a noise complaint, but he believed the visit was really about the smell of marijuana coming from the men's apartments. He said he and Jean had both been smoking that afternoon.
Watch Joshua Brown testify in the Amber Guyger trial below, courtesy of the Law & Crime Trial Network. 
Brown said he and Jean had a brief conversation, then went back into their apartments, which were across the hall from each other.
Brown testified that he was returning home from a sports bar later that night when, from the hallway, he heard Guyger go into Jean's apartment. He described hearing what sounded like "two people meeting each other in surprise," then two gunshots.
Brown testified he could not understand what Guyger and Jean said to one another because he heard "two voices mixing together at the same time, so I couldn't make out what either one of them was saying."
Brown said he did not hear Guyger give Jean any commands before the gunshots rang out.
>> Related story: Dallas jury rejects 'castle doctrine' defense, finds ex-cop Amber Guyger guilty of murder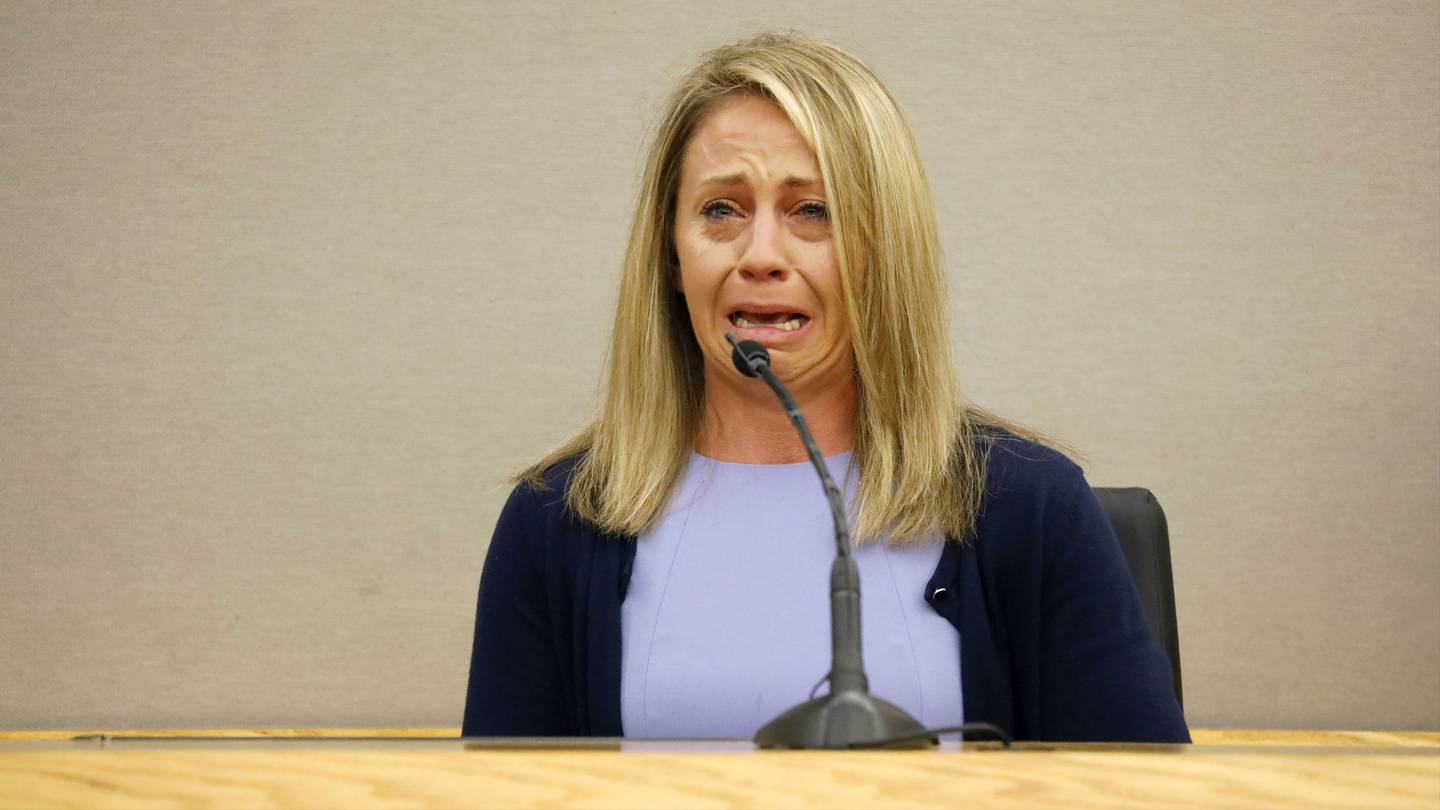 Prosecutors used Brown's testimony to bolster their claims that Guyger lied when she testified that she shouted, "Let me see your hands! Let me see your hands!" at Jean before shooting him.
Brown said he ran back toward the parking garage in alarm and, after determining no one was near his apartment, went home to check on his dog.
After a few moments, he saw Guyger come out of Jean's apartment, talking on her cellphone. He said she paced back and forth in the hallway.
"She was crying, explaining what happened, what she thought happened, saying she came into the wrong apartment," Brown said. "That was about it."
Video footage shot by another neighbor at South Side Flats appeared to show Guyger pacing and talking on her cellphone. It also showed first responders performing CPR on Jean as he was wheeled out of the apartment and toward a waiting ambulance.
Brown became emotional as he testified that he could often hear activity in Jean's apartment from the hallway outside his own door. He wept on the stand as he described hearing Jean, a St. Lucia native and avid singer who worked as an accountant, singing Gospel music and Drake songs in his apartment every day.
"I heard him singing every morning," Brown said.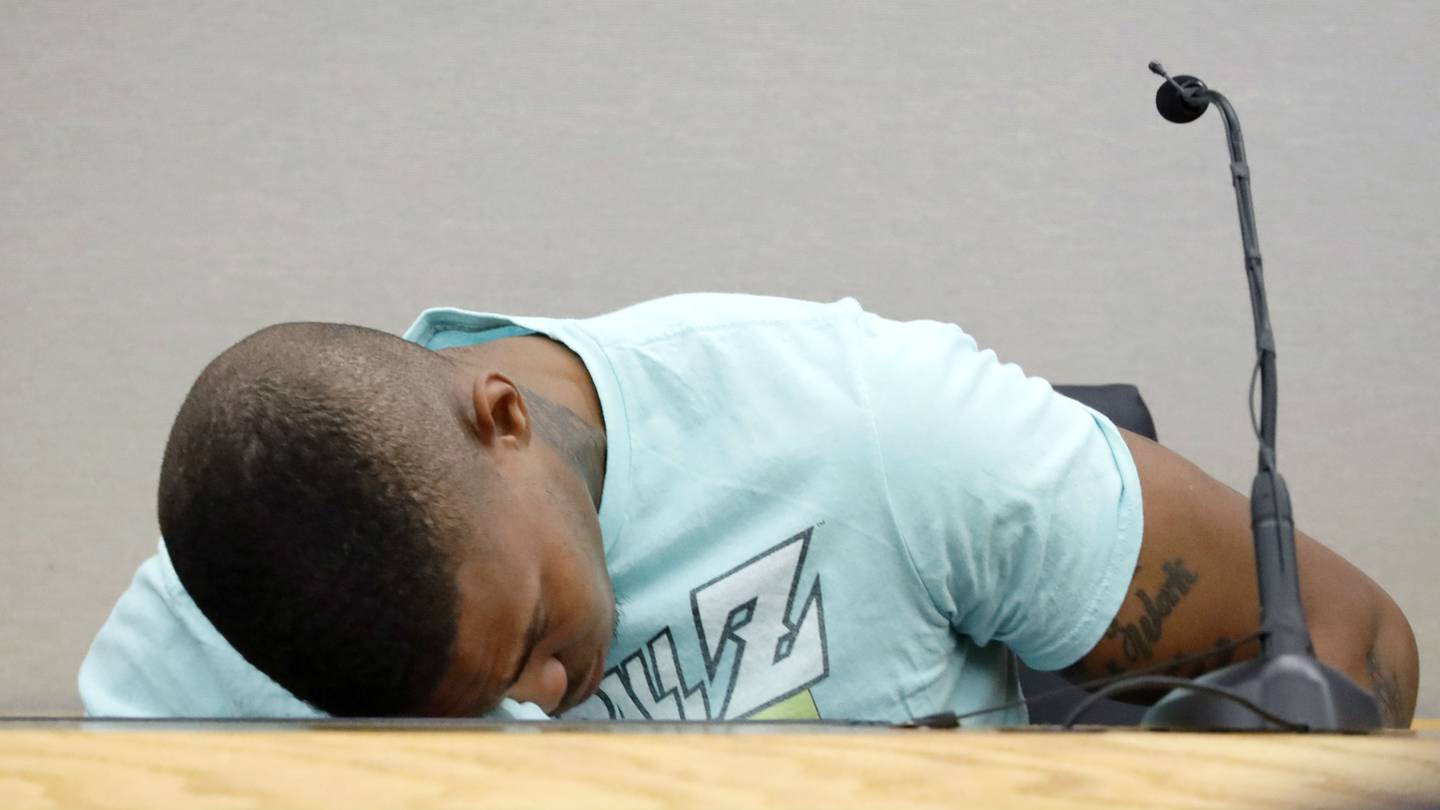 Brown bent his head, wiping tears with his T-shirt, before he was handed a box of tissues by the prosecutor, who told him to take his time and that there was no rush.
"Yeah, we need a moment," Brown said.
Prosecutors at Guyger's trial argued that there were multiple visual clues that should have warned the patrol officer she was on the fourth floor instead of the third floor, where her apartment was located directly below Jean's. The apartment numbers were displayed in lighted signs and Jean had a bright red door mat, while Guyger had no mat.
A large decorative planter outside a neighbor's door on the third floor would also have been missing as Guyger walked past the same spot toward Jean's fourth-floor apartment.
At least one officer who responded to Jean's apartment after the shooting testified that he immediately smelled the odor of marijuana, which prosecutors argued should also have informed Guyger she was at the wrong apartment.
Brown testified that, like dozens of other residents interviewed by Guyger's defense attorneys, he had also gone to the wrong floor more than once when he first moved into the South Side Flats. He said when he accidentally went to the third floor, the decorative vase is what warned him he was on the wrong floor.
Jason Hermus, the lead Dallas County prosecutor in Guyger's case, praised Brown following his death.
"He bravely came forward to testify when others wouldn't," Hermus told the News. "If we had more people like him, we would have a better world."
Merritt told CNN that Brown was a reluctant witness because of all the attention that came with being part of a high-profile murder case. The attorney said there had been online comments calling Brown a "snitch" for cooperating with prosecutors.
"He did not want to testify in that trial. He made it clear he had no interest in testifying in open court in that trial," Merritt told the network. "(Brown's mother) knows that her son was really bothered by the fact that he was given a lot of exposure from the trial, a lot of unwanted attention."
Merritt tweeted shortly after Brown's death that he'd spoken with the man's mother.
"She is devastated. We all are," Merritt wrote. "Joshua Brown was key witness in the murder of Botham Jean that helped put Amber Guyger away. We need answers."
Jenkins also tweeted that he shared "the community's profound sense of shock and anger over this evil murder."
"Our law enforcement agencies will find and arrest the person(s) who did this and our @DallasCountyTx criminal justice system will vigorously prosecute them," Jenkins wrote.
Jenkins reiterated Sunday that authorities would "work to ensure a transparent and thorough investigation of the murder of Joshua Brown." He asked the public to give investigators time to work on the case.
Sherrilyn Ifill, president and director-counsel of the Legal Defense Fund, wrote that the circumstances of Brown's death "cries out for answers" and calls for an independent investigation.
"We urge state or federal authorities to follow the trail of misconduct left by this case and fully investigate the circumstances surrounding Mr. Brown's death," Ifill wrote in a statement. "It is critical to public confidence in the administration of justice that witnesses who speak out against police violence are fully protected. The suspicious circumstances of Mr. Brown's killing should cause great alarm and demand an immediate and piercing inquiry.
"We echo Allison Jean's statement that the 'corruption we saw during this process must stop,' and support her request for a comprehensive federal investigation of the Dallas Police Department."
Allison Jean, Botham Jean's mother, said after Guyger's conviction that either a lack of proper police training or poor use of training led to her son's murder.
"The poor training, or the poor use of what should have been training, is what we see coming out of this case," Jean said. "If this was applied in the way that it ought to have been taught, my son would have been alive today."
She also called out corruption and alleged tampering with evidence that came out during the trial. Guyger's former partner, and lover, Senior Cpl. Martin Rivera, is accused of deleting texts, including sexually explicit ones, between him and Guyger following the shooting.
Hall, the police chief, announced Wednesday that internal investigations had begun into officers' actions immediately following Botham Jean's death, including allegations of tampering with in-car video cameras, the failure to render aid as Jean lay dying on his living room floor and "multiple other things" that came out during the trial.
>> Related story: Amber Guyger trial prompts probe into Dallas PD, ethics complaint against judge
Brown, a native of Jacksonville, Florida, lived in Texas since 2008. He attended the University of South Florida, where he played football and majored in interdisciplinary social science, he testified at Guyger's trial.
According to his bio on the USF football website, Brown has four sisters and three brothers.
A GoFundMe page set up by Shanteya Victor, who describes herself as Brown's ex-girlfriend and mother of his 11-month-old son, states that Brown also leaves behind two additional children.
The university released a statement on Brown's death, which was obtained by WFAA in Dallas.
"We are deeply saddened by the tragic passing of Joshua Brown in Dallas, Texas," the statement read. "Joshua was a much loved and valued member of our football program and athletic family, and his loss is felt by many whose lives he positively touched. Our hearts go out to Joshua's family, friends and loved-ones during this very difficult time."
Brown's death also garnered the attention of politicians on the national level, including multiple Democratic presidential candidates. There did not appear to be an immediate response from President Donald Trump, who is running for reelection.
"I'm heartsick for Joshua Brown's family and friends," Sen. Elizabeth Warren wrote Sunday on Twitter. "He bravely stepped forward and testified to bring some justice for Botham Jean, and peace for his family. We need answers -- and Joshua Brown and his family need justice."
Beto O'Rourke, a former Texas congressman vying for the Democratic presidential nomination, expressed condolences to Brown's loved ones.
"When Botham Jean was killed in his own home, his neighbor, Joshua Brown, spoke out and ensured his murderer was held accountable," O'Rourke tweeted. "His death, like Botham's, was a tragedy -- only possible because we have failed to end this epidemic of gun violence. Sending love to his family."
Julian Castro, also of Texas, wrote that Brown "bravely stood up to injustice and helped put Amber Guyger behind bars."
"We grieve with his family and friends, and demand a transparent investigation the people of Dallas can trust," Castro said.
Castro's sentiments were echoed by U.S. Sen. Kamala Harris, who is also running for president.
Congresswoman Alexandria Ocasio-Cortez also wrote that authorities must get to the bottom of Brown's death.
"Just when we caught a glimpse of justice for Botham Jean, much of it feels stolen back with the murder of Joshua Brown, a key witness in the case," Ocasio-Cortez tweeted. "My heart breaks for his family and for everyone touched by this tragedy."
Cox Media Group